400 Barangaroo Avenue
Commercial
2016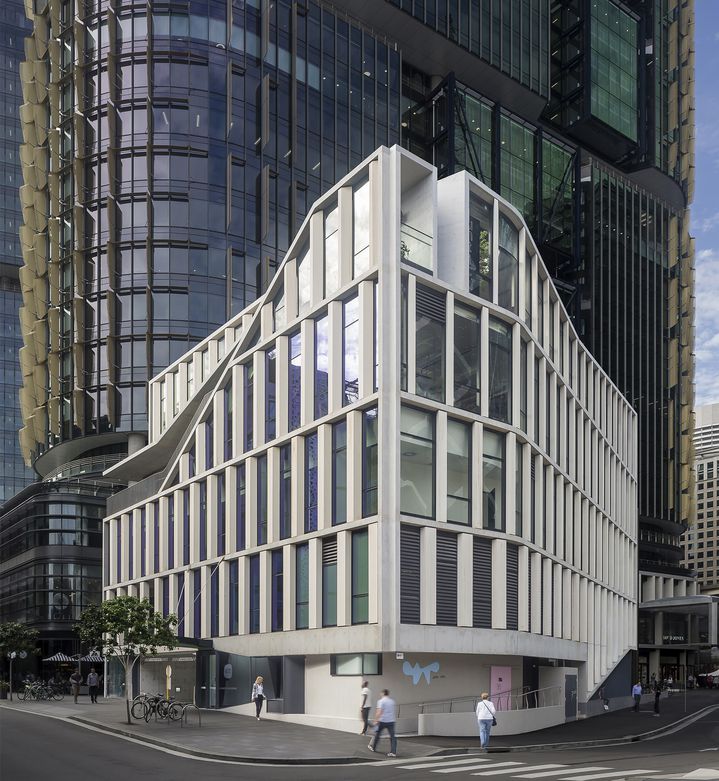 400 Barangaroo Road, Barangaroo ('400') forms part of the entry sequence to Barangaroo South, Sydney's new waterfront mixed-use precinct - a hinge - between the city and the harbour.
This complex trapezoidal site inherited minor public functions of the development, such as car park entry and public toilets, a fixed basement structure and significant services risers within and adjacent to the building.
'400' and its neighbour, Barangaroo House by Collins and Turner, are linked, smaller scale buildings sited in the round between the existing development of King Street Wharf and the commercial towers of Barangaroo South. Their shared materials palette of timber, planting and concrete combine to enliven this new pedestrian precinct, adding a delicacy of scale in counterpoint to their massive neighbours.
The action of the building is brought to the surface, through the external wrap around stair, cutting through the façade and linking every floor to the ground plane. The stair is engineered to act as a required second fire egress, maximising the use of the floor plates within. Each entry is figured with unique outlooks, levels, signage seats and planters. Cold shelled at the time of completion, '400' now houses a bookshop, café, bar, ferry office and gym.
The stair, a vertical, overgrown promenade ends in a rooftop bar and sheltered garden courtyard. A series of circular roof openings, carved out of the concrete ceiling, act as frames for rooftop planting, and as lenses to view the city above.
The façade is constructed of stacked, angled and offset timber columns, grading from dense at the base to lighter at the top.
In pure elevation the façade appears open, in obtuse views, the timber appears more solid and prominent. The timber boxes are made from accoya, a sustainable softwood that, through a process of non-toxic acetylation (loosely a kind of 'pickling'), acquires properties of stability and longevity.
To the East the façade curves and cants back, a gentle, embracing gateway to the new Barangaroo South precinct.