410 Pitt St
Commercial
2021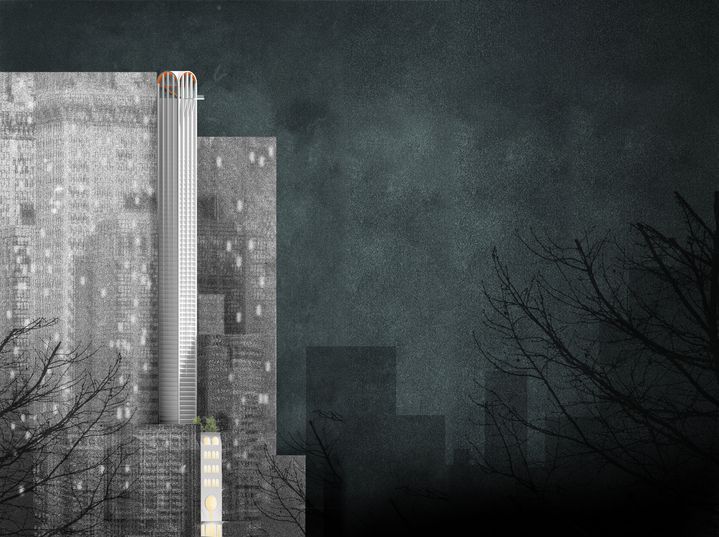 An improbably narrow, six meter wide site is envisaged for a 100m tower in the downtown area of Sydney near its central station.

Our proposal embraces this extraordinary attenuated quality, proposing a 'column' tower on a low scale podium.

The podium references the delicacy and detail of its heritage neighbours, using the language of grand arching brickwork. A three story urban room houses multiple levels of lobby, cafe & lounge, visible through a large scale keyhole window. A walled courtyard garden for shared use overlooks the street.
The tower simulates the compression and extension of a column, through a continuous abstraction of the elements of a column: base, shaft and capital.

The facade begins with compressed horizontal screening, slowly transforming into exaggerated verticals at the top. Horizontals begin wide and flush with the outside frame, slowly thinning and receding at the height of the tower. Each horizontal is at the height of the slab, handrail and door head height.
The capital is joyfully expressed as a flying balcony and shell curves of a rooftop sundeck, pool and "hammam" spa. The soffit of the curved ceiling is brightly tiled, visible from both the street below and the city beyond.

Each floor houses compact hotel rooms, gathering light from the street, rear court or internal shapely voids. The voids are tiled to reflect light and colour into the rooms. Key hole windows provide a framed vignette of the seamless tiled surface.
Testing the boundaries of construction and design, the 'pencil' tower adds both a generous street room and a heroic skyline to its neighbourhood.