Newcastle East End — Stage 1
Residential
2017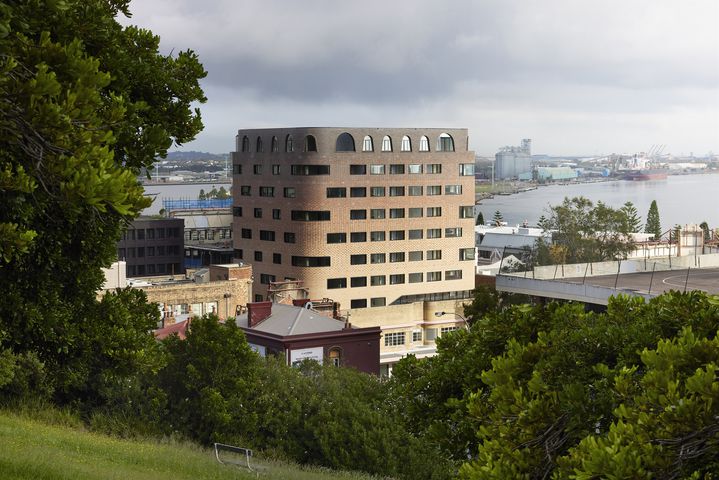 Part of a Design Excellence collaboration for the first stage of 'East End' in Newcastle, the development fronts onto Hunter, Perkins, King and Wolfe Streets but also creates a new public space within the site, linking Wolfe and Perkins streets, called Lyrique Lane.
'Fabric House' is one of 3 new mixed use (retail and multi residential) buildings located on the site amongst retained heritage buildings and building components.
Fabric House is a new heritage for Newcastle – a building that is uniquely familiar.
The Building stands proudly on the shoulders of the former David Jones Food Hall, designed in a 1930's modernist style – a building that is both muscular and sensuous in personality.
The new building extends directly upward off the existing facade in a way that both expresses and incorporates the heritage component of the building into the new whole. It both restores and transforms the existing, perfectly aligned and confident about its origins. It is additive in approach rather than a clear demarcation as is often explored in heritage contexts. Fabric House allowed us to rethink a new heritage where the new is the old is the new again.
The brickwork grades as it ascends from the blond brick of the heritage facade to a deep blue/brown brick referencing other the 19th century heritage brick buildings in the immediate vicinity. Windows and balconies read as a pattern of brick openings again referencing the solid to void ratio of the traditional brick warehouses that surround the site.
Completed it is a tall brick building – fully present in the city. From a distance it sometimes looks like a cloud is passing over the building highlighting the heritage base. It seeks to enhance the existing – to include the old into the new city of Newcastle.
Photography by Tom Roe
2022
Australian Institute of Architects - NSW Premier's Prize
2022
Australian Institute of Architects - Residential Architecture Multiple Housing
2022
Australian Institute of Architects Newcastle Architecture Awards - The Newcastle Architecture Medal
2022
UDIA NSW Crown Group Holdings Pty Limited Award for Excellence in Mixed-Use Development