Tamarama House
Residential
2015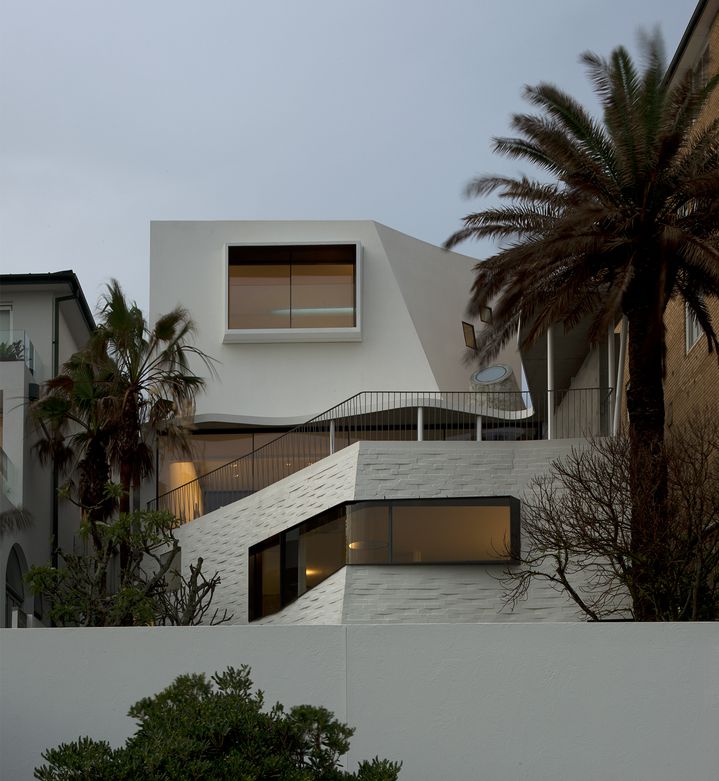 AIA NSW judge's citation:
"As you walk through the Tamarama House your eye is continually drawn to remarkable details: of animated handrails, folded steel and carved concrete. However, it is the purposeful and sequential manipulation of volumes — from the compressed entry portico to the vast living space, layered cabana and intimate master bedroom — that leaves a lasting impression of delight. This is a timeless and extraordinary piece of architectural craftsmanship where the hand of the architect is ever present. The overlapping geometries of the form and dual garden arrangement of the plan masterfully respond to the particularities of the site. Central to this gesture is the sunken front garden facing the street. Sheltered from wild weather, it acts as both a place of repose and respite, and a balanced juxtaposition to the expanse of ocean adjacent. Views are carefully framed, reflected and enclosed throughout the house, capturing moments to dwell on sky or surf.
Whilst the budget was significant, this was managed with remarkable acumen, the elegant palette of materials conveying at once a sense of casualness and grandeur. Viewed from both the street and the ever—popular coastal walkway, the beautifully sculptural form of Tamarama House is offset by the layered textures of a highly integrated garden that anchors the house within its coastal setting."
Photographers: Andrew Cowen, Erieta Attali, Tom Ferguson, John Gollings and Brett Boardman
2017
AIA NSW Wilkinson Award for Residential Architecture (New)
2017
Robin Boyd Award for Residential Architecture (National)