Barangaroo Pavilion
Commercial
2020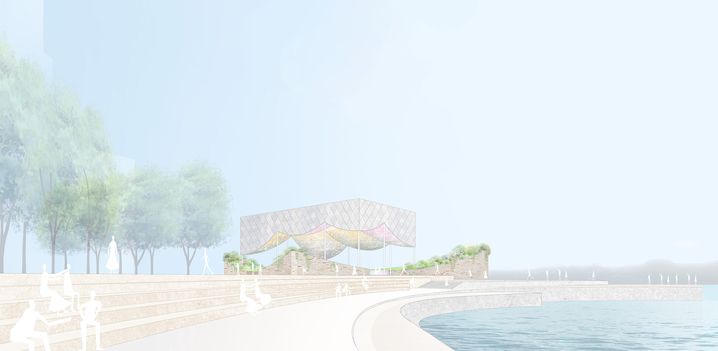 Second stage open competition finalist for the New Pier Pavilion at Barangaroo.
Flowers and Clouds
In a place dominated by commercial buildings of scale, of hard materials and tough surfaces, 'Flowers and clouds' is a moment of intimate containment, softness and movement.
A tricornered berm, planted with coastal flowers contains a circular room, protected from winds.
A billowing puffed ceiling of Alusion Aluminium foam shades the room, evoking the temporary and magical quality of fabric tents. The light
and reflective quality of the roof is an inviting antidote to the built environment, connecting to the lightness and movement of clouds, sails and water.
The roof is the fifth elevation, seen in the round and from above. It emits misted colour from a flotilla of skylights through its changing fabric and looping geometry.
The cupped garden is a moment of intimate containment where nature is abstracted and concentrated.
The scent of essential oils held within the arcing topography.
Flowers shifting form and colour with the kaleidoscope of time.
Circular time that draws us to Country and to the interconnectedness of all things.
Offering a lens that connects time past and time future.
Making a home to small birds, insects and pollinators who spirit between the ground and the sky.
It is an immersive garden- a microcosm of the harbour landscape, both spatially and taxonomically rich.
A coupling of garden and bushland, with species selected for their compatibility with the shallow, lightweight, elevated soil profiles.
The garden exaggerating the arc of this sandy berm to heighten the sense of containment.
Smaller plants inhabiting the moister, shallow soils encircling the perimeter of the paved floor, between scalloped blankets of lawn.
Larger shrubs occupy the deeper soil on the drier upper slopes of the curve.